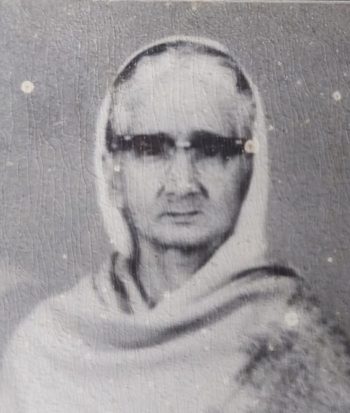 Late MOHINI DEVI daughter of a Bengali postmaster and a great devotee of Jagannatha Mahaprabhu was born in 1915 in British India in a remote village of Orissa. She never got a scope for education and was married off at an early age of 9. She came to Kolkata to live with her husband at her in laws residence at Maniktala. Her husband owned a then renowned steel fabrication unit where boxes and chests were manufactured and was a well known percussionist (also known as USTADJI). His early demise let Mohini Devi struggle alone with five children but educated them and settled them. She always emphasized on the fact that her struggle would have been easier if she was educated and hence always encouraged her successors for education, especially English education and Discipline like British, to have the Honour like Indian freedom fighters and urged everybody not to forget the Indian Tradition. Taking inspiration from this her elder Grandson Mr. Sandeep Kumar Dey (M.Sc, B.Ed.) formed the Memorial Trust and is the founder Chairman and Principal of WORD HOME ENGLISH SCHOOL.
Late Mrs. Ranjita Das, daughter of a school teacher was born in Duttapukur, 24 PGNS (N), on 5th March, 1954. She grew up with the ideologies & moral values of her father and had great interest for academics. Her mother being a daughter of a reputed lawyer inherited the rich academic culture & interest for music that she inculcated into her daughter. She in her school days participated actively in scouts & Guides. She emphasized on the All Round Development of a child that includes Academics, Art & Culture, Traditional Values, Honour & Discipline. Unfortunately God, the Almighty took her away from us very early on 13th May, 2012. Taking inspiration from her ideologies & to continue the Educational legacy, her daughter Ms Rakhi Das, co-founded the DMARD Memorial Trust, engaged in Educational activities.
WORD HOME SCHOOL is an English medium co educational day school following CBSE curriculum and NCERT (National Council for Education Research and Training) guidelines. The school is governed by the strict ideology of LATE DEVI MOHINI AND LATE RANJITA DAS  (DMARD) Memorial Trust , comprising  of educationists, Teachers ,Officers and other educated citizens of society.
WORD HOME SCHOOL is in collaboration with S'DEEZ Education, an experienced stalwart in the field of modern education, for maintenance of quality, standard and methodological teaching.
The pillar of WORD HOME SCHOOL is HONOUR, TRADITION and DISCIPLINE which are self explanatory and itself proclaim the motto of the Institution.
WORD HOME SCHOOL provides an environment for the All Round Development of the child and uses all modern tools and methodologies for a happy learning experience of the child. The Trustees have taken special care to keep the FEES at a very nominal rate starting from Rs. 600/- only so that people related to any profession and from all spheres of society can easily fulfil their dream of providing their child a quality English Education.